We have witnessed the power of humanity and the kindness of strangers. We have been fortunate enough to be a part of amazing stories and to witness seemingly ordinary individuals doing remarkable things, through mobilizing the crowd.
"As a platform, BackaBuddy allows us to come together as communities to support people and causes that we believe in, regardless of our differences. For every cause, accident or catastrophe that we face, we bear witness to the many who step up when asked to by their peers. This is the immense power that crowdfunding facilitates and which goes far beyond just the funds that are raised. We need to build bridges in South Africa across social, political and racial divides. Each campaign launched has the capacity to draw people together around common causes that we believe in, binding us together as a nation through positive stories and impact." – says BackaBuddy, CEO, Patrick Schofield
 As we celebrate raising R50 million rand for various charities and causes, we have found ourselves looking back at a few of the campaigns that have captured our imaginations and tugged our heart strings.
On the 30th of April 2017, UCT alumni, RUSSELL MARTIN 
 sadly passed away, leaving behind his wife IIze, his two young boys, Oliver and Conner and his friends and family with a lot of questions and a tremendous feeling of loss. To console the Martin family and to honour Russell's memory, his 2007 MBA classmates from the University of Cape Town's Graduate School of Business set up a BackaBuddy campaign. The campaign was aimed at securing enough funds to send Russell's two sons to university when they are old enough to rea
lize their education dreams. With tremendous support R167 307.90 was generated in Russell's honour, that will allow the two boys to follow their dreams. Click through to Russell's campaign here

NEAVE BARRETT was born on the 23 September 2016, after failing her hearing test doctors discovered she was born deaf. Fortunately, the Barett's had medical aid that covered a portion of the funds needed for her R517 020 Cochlear implant. A crowdfunding campaign was set up in
February 2016 to raise R60 000 for the procedure, within 3 months the campaign had raised R 58 263.25. Thankfully, the crowd quickly responded to Neave's heartfelt story, allowing her the opportunity to develop spoken language at the same rate as her hearing peers.
Click through to Neave's campaign here
DARREN AUGUST was thrown out of a moving train after trying to protect two ladies from a robbery on his way to work in May 2016. Graeme Kuys, inspired by his friend's bravery and selfless act, set out to cycle 8,848 km, the length of Mount Everest, in the hope to raise R30 000 towards Darryn's unforeseen medical expenses. To Graeme's surprise, his gesture generated more than half a million rand towards his friend's recovery.
"When Darryn August had his back broken in his attempt to stop 3 robbers assaulting people on a train, the story could have been about yet another life ruined through a violent, traumatic incident in South Africa. Instead the story became one of how over 700 South Africans stood up and said, we respect him, we will support him and we will aim to emulate him in our lives. Darryn, has become a everyday-hero that every person can look up to." Says Patrick Schofield
Click through to Darryn's campaign here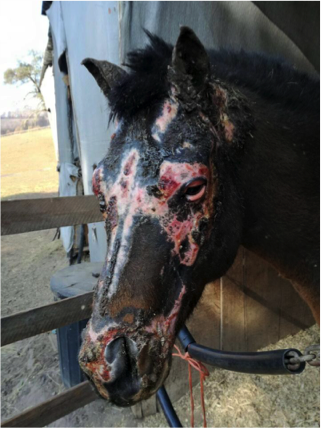 During the disastrous Knysna Fires on the 7th of June 2017, we were inundated with campaigns, the devastation destroyed homes, businesses and separated families. One pony, by the name of Cody suffered severe burns all over his body and fled his home to escape the blaze. He returned home after 3 weeks without food or water and  found himself in desperate need of rehabilitation. Owner Karen Lambrechts set up a campaign to cover Cody's medical costs, estimated at R40 000. Donors responded to Cody's story with open hearts and his campaign raised a total of R 129 648.82!
Click through to Cody's campaign here
By the time the fires were put out a total of R2.08 million was raised to support victims of the Knysna Fires.
Tackling stage 3 breast cancer with a courageous sense of humour, MANDY LOTTERING, a beloved salon owner from Pietermaritzburg, crowdfunded over R95 500 towards her R120 000 double mastectomy which took place on the 6th of November 2017. With an entire community at her side and local housewives campaigning on her behalf, Mandy is currently recovering from her life changing procedure.
Click through to Mandy's campaign here
The Smile Foundation have also run consecutive successful campaigns on BackaBuddy, generating an astounding R1.3 million through various events to restore broken smiles in South Africa. To date they have been able to perform over 1000  free corrective Plastic and Reconstructive surgeries and have changed the lives of countless families.  Click through to the Smile Foundation's Charity profile here
"Through dealing with these remarkable campaigns we are reminded of the spirit of Ubuntu that runs
through our veins. My thoughts go back to the founder of BackaBuddy, Allan Beauthin, who sadly passed away in 2015.  When he started BackaBuddy, crowdfunding was still a very new concept in South Africa yet he saw the potential of the platform making a huge social impact. We are proud to continue his legacy and continue to assist individuals to raise funds for causes they are passionate about" – says Catherine Du Plooy, BackaBuddy Chief Operations Officer.
Crowdfunding has shown phenomenal growth in South Africa. Individuals are becoming more aware of alternative financing to support causes they resonate with.
One of the biggest concerns in the donor community, is always the question of where generated funds will be used. For this reason we offer the option to manage funds for our campaign creators.
"We have seen that by offering the service of managing funds directly, individuals are more open to supporting charitable causes." – says BackaBuddy, Chief Operating Officer, Catherine Du Plooy
"Crowdfunding has the unique ability to unite individuals in the face of fear and adversity. It has the
potential to bring about meaningful social change and it creates an opportunity for individuals to support their passions and to spread kindness that is often lacking in our fast-paced world." – says BackaBuddy, Marketing Officer, Zane Groenewald
We invite South Africans to start their own campaigns, to chase their dreams and to support amazing causes.